Nancy Patz '52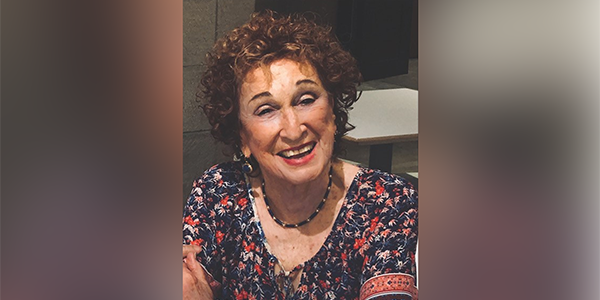 Nancy Patz '52 is a Second Century Associate member with a bequest and an annuity through Goucher. She stewards the Nancy Patz '52 Corner, as well as the Fanny Jonas Patz '27 and Harry J. Patz Scholarship in honor of her mother and her father.
What was the single most important consideration in your decision to make Goucher a beneficiary?
Goucher's been a continuous part of my life. My mother was a Goucher graduate, and she took me to events out on the Towson campus when it was only a bare field. I played "Goucher girls" with my best friend, whose mother also went to Goucher. I went to Goucher for my freshman and sophomore years, and I did my first oil painting in the studio of Van Meter, which was only half-built, but had a huge glass skylight—and, most importantly, Mr. Leahy with his cloud of white hair and extremely rosy cheeks.
What inspired you to become a legacy donor to Goucher?
It was a gradual process. I never thought of Goucher in terms of legacy giving, but as I began to think of where to give support, Goucher became important to me.
What prompted you to make your gift?
When my mother died, my father wanted to honor her. He memorialized her with the Fanny Jonas Patz '27 Scholarship because he knew what it meant to her to graduate from Goucher. Many years later when he died, it seemed right to add to this scholarship.
It was an easy process. My lawyer suggested possibilities that sounded right to me and that fit in with my desire to support Goucher in various ways.
Is there an important moment that influenced your decision?
I suppose that important moment came when I talked to Nancy Magnuson about giving to the Goucher Library my collection of manuscripts, ilustrations, correspondence and other material related to the books I'd written and illustrated. Nancy helped me set up the Nancy Patz Corner, and Tara Olivera has kept it going, holding exhibits and classes that use material from my work.
When you think of Goucher what comes to mind?
1. I think it's a good place for strong women to develop (even though it's now co-ed).
2. I love the forward-looking philosophy of Goucher, particularly the requirement to study abroad.
What impact do you hope your gift will achieve for Goucher?
I like helping students get a Goucher education and have the Goucher experience, and it pleases me that the scholarship honoring my parents may make these paths easier.
As for the annuity and bequest, I'm glad to provide funds that can help Goucher just keep on doing what it's doing!