Nancy Magnuson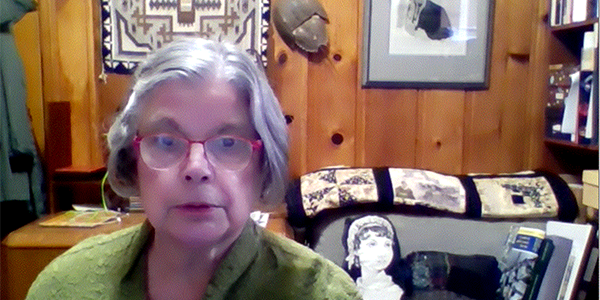 Nancy Magnuson presided over the Goucher College Library from 1987 to 2017, and by her tireless devotion of more than three decades, she left both the college and the library stronger than she found them. In that time, the library grew from a repository of books to a repository of knowledge—the library she helped create stands literally and figuratively at the heart of Goucher's campus. She was instrumental in the formation of Goucher's Book Studies Program and also the Peace Studies Program. Under her leadership, the library became involved in almost all aspects of academic life at Goucher, whether by hosting and sponsoring events and speakers or by preserving and displaying the rich assortment of art and artifacts in the Goucher collection.
What inspired you to become a legacy donor to Goucher?
I was inspired to donate by the many bright and curious students I worked with in 30 years at Goucher. I loved watching the many directions their research took them and admired their efforts to make the world a better place. And I've appreciated continuing connections as they've moved into a wide range of career paths.
What was the single most important consideration in your decision to make Goucher a beneficiary? Why did you choose a bequest?
Although I'm grateful to have had the opportunity to wear many hats at Goucher, my most intimate relationship with the college is with the library. My bequest is directed toward the Friends of the Library. In their 70-year history, they have been so important in enabling the library to offer resources that would not otherwise be possible.
Is there an important moment, person, or special occasion at Goucher that influenced your decision?
So many wonderful people and moments! Being part of creating the Athenaeum was huge, of course, with the new library opening a particularly special occasion. I had amazing colleagues in the library and across campus. I always felt especially inspired by two of my predecessors, Ms. Eleanor Falley and Dr. Sarah Dowlin Jones, who together represented almost 60 years of the library's history. It was an honor to be part of that legacy.
What prompted you to make your gift at that particular time? How was the process of setting it up?
2020 has been an odd year, to say the least! During the pandemic quarantine, I found myself taking on a number of projects that had been set aside, such as estate planning. It was easier than I expected.
What outcome do you hope your gift will achieve for Goucher?
Goucher faculty and students have high expectations for the library. The Friends of the Library has been important in expanding resources, and I'm proud to be part of that effort.